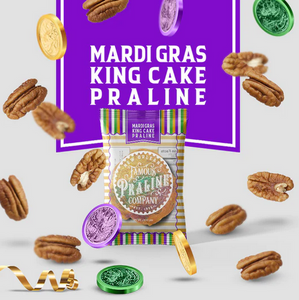 Pack of 50 of our individually Wrapped New Orleans Famous Mardi Gras King Cake Praline.
The Mardi Gras King Cake Praline is a celebration in each bite! A classic Creole praline is sprinkled in Mardi Gras colors with purple, green, and gold sugar like a traditional New Orleans King Cake.
The Original Praline is cooked and poured by hand using the traditional Louisiana recipe with quality ingredients to create a thin, slightly crispy candy with nutty sweetness.
Buy in bulk and SAVE! Perfect for weddings, trade shows, special event swag bags with a New Orleans theme!